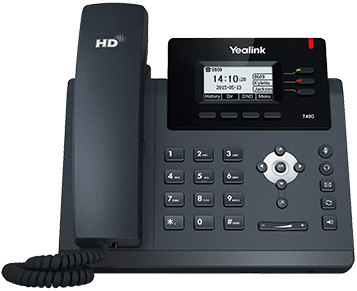 Yealink T40G Support
Product features and documentation.
Buy Now
Yealink T40G Gigabit Phone with HD Voice
The Yealink SIP-T40G is a feature-rich IP phone that enhances daily interoperability and unifies communications for busy managers. Designed with a revolutionary new appearance, it supports flexible and secure provisioning, this advanced IP phone is intuitively designed with ease-of-use in mind. The T40G is also built with the Gigabit Ethernet for rapidly facilitating call handling, and its programmable keys help boast extensive productivity-enhancing features, like SCA, call transfer, etc. Meanwhile, equipped with the feature of Power over Ethernet (PoE), superb high definition (HD) sound quality and a rich visual experience, the SIP-T40G IP Phone maximizes your personal productivity in a superior way.
HD Audio
2.3" 132x64-pixel graphical LCD with backlight
Yealink Optima HD Voice
Intuitive user interface with icons and soft keys
5 feature keys: message, headset, redial, hands-free speakerphone
LED for call and message waiting
4 context sensitive soft keys
6 navigation keys
Volume control
Dual-port Gigabit Ethernet
Equipped with the Power of Ethernet (PoE)
Programmable keys
Headset support
Available Compatible Accessories:
Includes phone access to US-based agents and assistance with setup if needed.
Not seeing what you want?
Visit the FAQ page for a list of top questions.
View FAQs