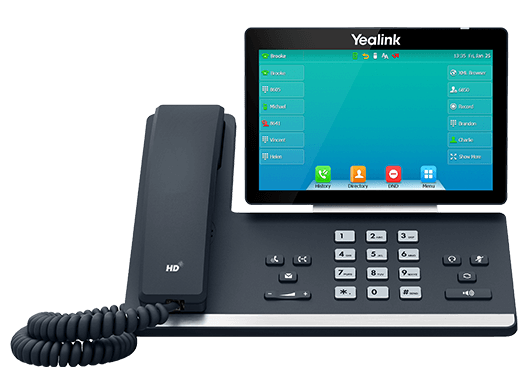 Yealink T57W Color Touch Screen Wireless Phone
Product features and documentation.
Buy Now
Dynamic Business Communication and Integrated Wireless Features
The Yealink T57W is a Premium Business Phone that combines a modern look and design with HD Voice, Gigabit connectivity, built-in Wi-Fi, and built-in Bluetooth. The phone employs an appealing large touch screen that makes the switch between pages and applications swift, easy and convenient. United Yealink Optima HD Voice technology and wideband codec of Opus, the T57W awards you the superb audio quality and crystal-clear voice communications. Moreover, the T57W puts dual USB ports in a phone that makes Bluetooth, Wi-Fi, USB headset and USB recording come true, and you can use any two of them freely according to your needs.
Fully adjustable 7" 800x480 pixel color touch display
HD voice: HD handset, HD speaker
Acoustic Shield and Smart Noise Filtering
One-touch speed dial, redial
Corporate directory support
10-way conference
29 touch keys with the ability to display the presence status up to 27 users on the phone display
9 Call Park locations on the main display
Calling features: call forward, call waiting, call transfer, call hold/return, group listening
Volume control
Ring tone selection/import/delete
Hearing aid compatible (HAC) Handset
Dual-port Gigabit Ethernet
Built-in Wi-Fi for wireless Internet connection
Built-in Bluetooth for wireless headset connection
USB 2.0 port for USB recording, wired/wireless USB headsets, and EXP50
Use as a base station with optional DD10K to connect up to 4 DECT cordless handsets
Stand with two adjustable angles, wall mountable
Available Compatible Accessories:
Not seeing what you want?
Visit the FAQ page for a list of top questions.
View FAQs