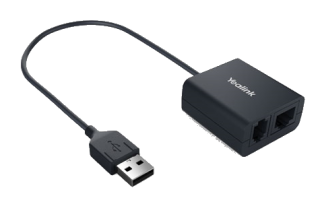 Yealink EHS40 - Wireless Headset Adapter
The advanced EHS40 wireless adapter provides a technical interface between your IP phone and a compatible wireless headset. This is perfect if you already own or accustomed to using a specific type of wireless headset. The unit is easy to install and gives you the ability to remotely control the basic functions of your phone from the wireless headset.
Compatible with Yealink SIP-T43U/T46U/T48U/T53W/T54W/T57W
Compatible with Jabra, Plantronics, Sennheiser wireless headsets
Plug and play, easy to use
Answer incoming call through remote wireless headset
Terminate calls using remote wireless headset key
Incoming calls are signaled in the headset earpiece
Available Compatible Devices:
Not seeing what you want?
Visit the FAQ page for a list of top questions.
View FAQs